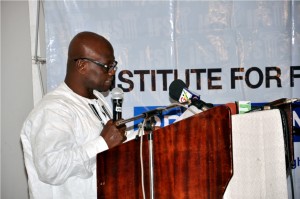 The media launch of the Institute for Fiscal Studies (IFS) took place at the Holiday Inn hotel in Accra on November 17, 2014. Members of the Governing Council of the Institute, its staff, associates, and other important invited personalities joined Dr. Kwabena Duffuor, IFS Founder/President, and Prof. Newman Kusi, the Executive Director, to unveil the Institute to the media and the public.
In his speech at the event, Dr. Duffuor shed light on the reason for establishing the Institute as well as its mission and vision.
"Throughout our country's history," he observed,"instances of apparent economic progress have soon been followed by periods of economic deterioration. These economic ups and downs are far from being part of the normal business cycle that all economies undergo. Simply put, the Ghanaian economy has over the years woefully underperformed, given the resource endowments we have. What have accounted for this phenomenon? While many factors are at play, central to them include the general lack of integrity; frequent and sometimes arbitrary changes in government; clash of economic policies and political interests; corruption; and external influences. In plain language, ladies and gentlemen, our fiscal and macroeconomic management have generally not done well. Our economic management decision-making and choices have more often than not been shaped by political expediencies and not by sound economic policies. It is to help reshape and improve upon our fiscal and macroeconomic management and thus meaningfully transform our national economy that the Institute for Fiscal Studies (IFS) was established."
Dr. Duffuor underlined that the mission of IFS rests on two basic premises. First, that growth and development occur where there is sustained sound management of the economy, and second, that such management is more likely to happen where there is an active and well-informed group of locally-based professionals in relevant areas to conduct relevant policy research to influence policymaking.
To this end, he said IFS will undertake innovative research into relevant policy issues, analyze public finance developments, assess the implications of government economic policy, provide practical recommendations that put government finances on a sustainable path, and share the information freely with policymakers, parliamentarians, analysts, and the general public.
The Founder called on people with knowledge and experience in the management of Ghana's economy to step out of their comfort zones and come forward to help tackle the country's complex economic problems.
Addressing the gathering, Executive Director Prof. Kusi explained IFS' core activities, which comprise research, academic training, and organisation of workshops and events to disseminate research findings and provide thought leadership. He said IFS conducts an active agenda of research and studies into Ghana's macro-economy, the fiscal system and its management; advances policy debate and generates ideas for fiscal management improvement; and disseminates its research and findings through events and publications. "It is envisaged that IFS will be an authoritative commentator on Ghana's public finances, tax and welfare policy, unemployment and labour issues, inequality and poverty, and policies designed to promote growth and development with a reputation for objectivity and impartiality," Prof. Kusi said.
He further stressed that the Institute's research will be of international standard and reflect the quality of its staff, management and associates, who will bring to bear on their work a combination of world-class academic excellence and practical real-world policy making experience.
Speaking on current economic issues, Mr. Alex Ashiagbor, Chairman of the Governing Council of the Institute and chair for the launch, said Ghana's present economic challenges have come about because the country is living beyond its means. "Our lifestyle as a country, which is represented by the budget deficit, is clearly unsustainable. I don't believe in the much-touted home-grown economic policies. The only policy is to live within your means. If you can't discipline yourself, then it will be imposed on you from outside," the Chairman said.
The Institute also received a lavish public endorsement from Dr. K. B. Asante, a distinguished senior citizen, retired diplomat and former government official who served under various political administrations from independence. He said the establishment of IFS is "a bold, public-spirited initiative" that will support Ghana's economic development. He also stated that "the array of talent at IFS is a measure of its success."
The senior statesman noted that Ghana has talent in abundance but does not seem to be making use of it.He therefore expressed the belief that IFS will bring together the best economic- management brains in the country to offer durable solutions to the nation's problems. He also praised the Institute's ongoing comprehensive study of Ghana's economic management since independence. This study is expected to lead to a book, "Economic Management in Ghana since Independence", which will assess all the macroeconomic policies that have been implemented over the decades and highlight their strengths and weaknesses to serve as a guide for future policymaking.
K.B. Asante told the audience that "without knowing the past, we would continue to make many grievous mistakes and, indeed, we would repeat the mistakes of the past."
Other members of the Governing Council present at the launch were James Avedzi, Chairman of the Parliamentary Finance Committee, and Mrs. Kate Quartey-Papafio, Managing Director of Reroy Cables Limited.