A ten-member delegation of the National Assembly of the Republic of Burkina Faso has called on the Institute for Fiscal Studies IFS to gather first-hand knowledge and best practices in Ghana.
The purpose of the visit was to deepen the understanding of the delegation on the role civil society organizations play in ensuring effective monitoring and assessment of Ministries, Departments, and Agencies in Ghana.
Professor Newman Kusi, Executive Director of IFS in his welcome address to the delegation explained IFS' work in promoting a better understanding of the Ghanaian economy and government finances in particular for the benefit of the government, parliamentarians, the business community, and civil society.
He emphasized the objectivity and independence of the institute in providing economic policy advice and advocacy based on practical experience and insights developed through quality research and analysis.
Commentary on the state of the Ghanaian economy by IFS fellows

The fellows at IFS took turns to brief the parliamentarians on the state of the Ghanaian economy and impact on citizens.
Dr. Said Boakye, a Senior Fellow at IFS elaborated on the current macroeconomy fundamentals of the Ghanaian economy and why citizens should care about these indicators. He touched on the weak economy the present government inherited and explained the efforts being made by the ruling government to attain stability and growth.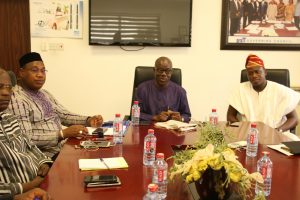 Mr. Leslie Mensah, a Research Fellow at IFS, touched on the revenue mobilization challenges the country is facing. Donor funding support for Ghana's budget has reduced over the past few years as a result of the middle-income status of the country, he noted. Government is adopting new strategies to raise more revenue domestically to finance its expenditure and also utilization technology to block revenue leakages, he added.
Dr. John Kwakye, Director of Research at IFS, spoke on the challenges the financial sector has faced over the last few years and its impact on the Ghanaian citizens. He explained the rationale for the new GH₵400 million minimum capital requirements for banks and steps being taken by the Bank of Ghana to clean up the banking sector
The members of the delegation of the National Assembly of the Republic of Burkina Faso enquired about the design Value Added Tax (VAT) and how it is operationalized in Ghana. The issue of illicit financial flows across Africa was of concern to them and they engaged IFS' researchers to understand how Ghana was dealing with it.
Other key issues which were discussed during the visit, included the budget monitoring and implementation role civil society organizations like IFS plays in Ghana as well as Ghana's recent dealings with China for infrastructure development.
At the end of the visit, the delegation commended IFS' work in enriching economic policy and development in Ghana. Mr. Kaobre Tibila, head of the delegation emphasized the need for more such independent policy research institutes to spearhead the development of African countries.